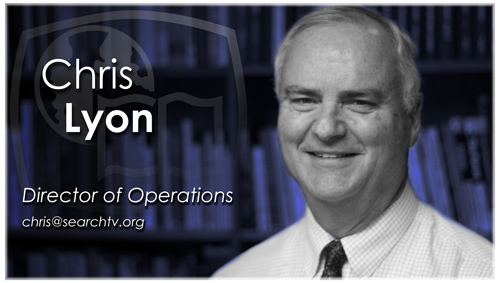 Chris has been a vital part of SearchTV since July 2001. Prior to his work at SearchTV he served for 25 years at IBM as a Global Services Manager. Chris studied business management at Oklahoma Christian University and provides general oversight of all physical aspects of the work at SearchTV. Chris serves as a board member and helps oversee all financial operations for the ministry. Chris can also often be found at various lectureships around the country with the display and would love to meet you and tell you about the work here at SearchTV.
Chris, Mack Lyon's son, has been married to his lovely wife Glenna for 43 years. He has 2 children and is the proud grandfather of 2 granddaughters.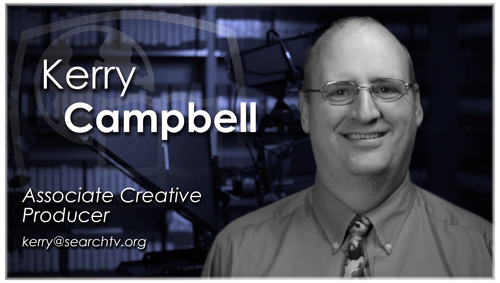 Kerry has been a part of the SearchTV family since 1999. He and his wife Jennifer have been married over 20 years and have 2 children, the oldest a freshman at Oklahoma Christian University. Kerry serves as a deacon at the North MacArthur congregation in Oklahoma City. He enjoys officiating in various sports such as softball and lacrosse.
Kerry serves in several vital roles with the ministry including camera operations during production and various duties in pre-production. He also organizes all of our volunteer workers and work days and delivers all of our monthly mailings to the post office.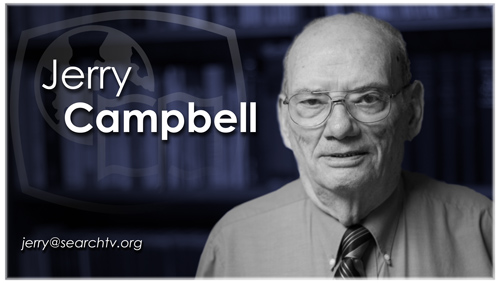 Jerry has been with SearchTV since 2003 in a part time role. He retired as a preacher and missionary having served 60 years in the pulpit and for 10 years in São Paulo, Brasil. Jerry and Barbara have been married over 55 years and have 4 children and 11 grandchildren. Jerry currently serves as a deacon at the North MacArthur congregation in Oklahoma City.
Jerry's main duties involve data entry of the many contributions received at SearchTV...Thank You! And he also produces the study sheets to go alongside each and every program. Jerry has also employed his love of maps in helping people find a local congregation of the church. He is also constantly answering the many questions we receive from those that want to understand more about the Bible.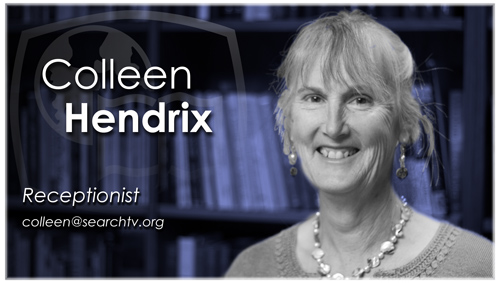 Colleen joined the SearchTV staff in January 2014 as a part time member until July when she began full time work. Colleen and her husband Jack have 3 children. Colleen is an active member of the Luther Oklahoma congregation. She and Jack have worked on a farm and sold produce in a local farmer's market. She enjoys time with family, working outdoors, sewing and serving the Lord.
Colleen's daily duties include answering the phones, data input for material requests and memorial and honor records. She assists with mailing out materials and letters to donors and checks data for accuracy for inclusion in the monthly newsletter.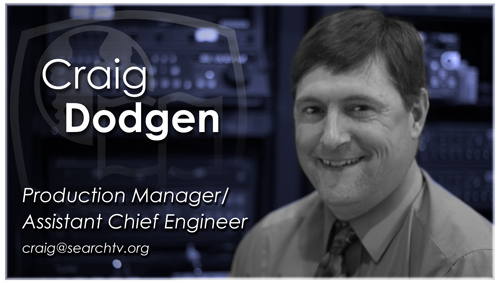 Craig has been a member of the SearchTV staff since September 2004. He has 4 children and he and his wife Tandy enjoy spending time with their 2 grandchildren. Craig studied computer security and advanced networking and worked as a mentor at a computer trade school before coming to SearchTV. As a member at the North MacArthur church of Christ in Oklahoma City Craig actively participates as a Bible teacher, works with church media, and also participates in the youth program. He umpires and plays softball in his spare time. He also shoots video for church seminars and other similar projects.
Craig performs many tasks related to production and post-production. Some duties include maintenance and quality control of the equipment before and during production. He also performs many technical duties for production including overseeing the production process to its completion and the duplication process that follows. Other duties include administration of the computer network, maintenance and updates to the website, and light video editing for the program.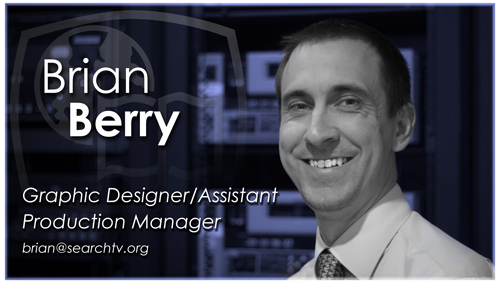 Brian began working with SearchTV in May of 2012. Before that he worked for 13 years designing graphics and training material for the Federal Aviation Administration. He and his wife Mandy have been married 15 years and have two sons. His family attends the Cherokee Hills church of Christ in Oklahoma City where he serves as the deacon in charge of audio and video.
Brian's main duties include assisting the production manager in the production and post-production environment. Brian assists with quality control in the duplication process including audio and closed-captioning. He assists with maintaining the computer network, maintenance and updates to the website and other weekly duties. Brian's skills as a graphic designer are put to use each month in assembling the newsletter as well as playing a major role in the new website design.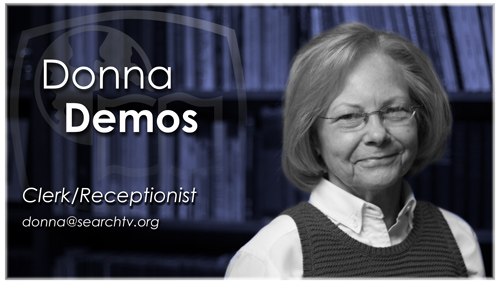 Donna has been with SearchTV since October 2003. She is originally from Pennslvania, but has lived in the Oklahoma/Texas region since graduating from Oklahoma Christian College. Before working with Search she taught elementary school and English as a Second Language. Donna is a member at the Edmond congregation.
Donna's main role at Search includes processing the daily mail and preparing the daily bank deposit. She also helps with the data entry of the numerous requests we receive via phone message and plays a vital role in organizing the mailing of these many requests as well.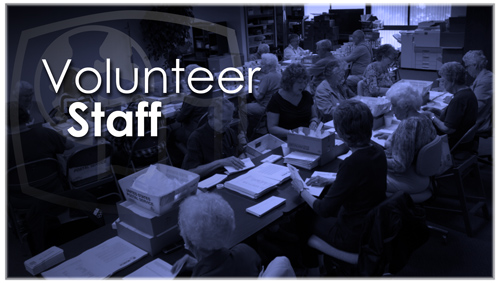 We have a countless number of volunteers that serve the ministry. Without these brothers and sisters we wouldn't be able fulfill the thousands of requests we receive each month. Volunteers help duplicate CDs, send out and grade correspondence courses, update mailing address changes, and package and mail out transcripts and financial letters each month.